GD SKTC is an ideal machine for processes that require multiple blade longitudinal cuts and single blade 90° cross cuts on flexible materials such as foam, felt, adhesives or cork. By using this machine it is possible to make both a longitudinal and a transversal cut. Both cuts can be made in kiss-cut, total cut or combining the two options.
The special GD SKTC series
The single-blade head with maximum material passage of 600 mm is ideal for creating strips, rectangles, squares, from roll to roll or from roll to set. All these processes are managed by a specialized computer and a dedicated software.
The quick and easy set up grants precise processing and excellent quality for the final product. Speed production easily allows the realization of large quantities. Our strengths are quality, productivity, silence, very low production costs and ease of use. Each machine can be customized on specific request.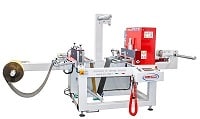 Do you want to buy components of the special GD SKTC series? Keep in touch!
Do you want to buy precision mechanics products of the GD SKTC series? Guidolin Girotto is the right company for you! Choose our long-lasting experience and take advantage of a very high-quality service tailored to your needs. Do not hesitate to contact us for any doubt or further requests. Our experts will be ready to answer any questions.