Our company is dedicated to the production and sale of precision mechanical components of the Plotter Series. The technology deriving from this series allows hkiss-cut, total cut or combined machining. Let's discover in detail all their main features and most common uses.
The Plotter series
The plotters with blade have a cutting area which corresponds to approximately 600×1000 mm and 600×1600 mm. This product line is designed with the following features:
Entry lamination system;
longitudinal cut;
rewinding system for the die-cut material;
rewinding of waste material.
With the aid of the projector, it is possible to view the cutting area before the procedure in order to avoid wasting material during the processing of single sheets. The quality of the cut is guaranteed even on high thicknesses of material.
We remind you that it is possible to configure each machine on specific customer request.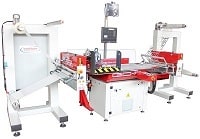 Do you need to purchase any Plotter Series? Keep in touch!
Do you need to purchase any precision mechanics components from the plotter series? Entrust yourself to Guidolin Girotto and you will not be disappointed. Take advantage of our customization services for the production of tailor-made pieces suitable for every need. Our years of experience ensures a product that has been made entirely with high quality Made in Italy materials. Contact us for more details!