Guidolin Girotto is engaged in the production and sale of guillotines and cutters. We refer to electronic / pneumatic machines particularly suitable for a transversal cut of the material. Let's see in detail all the features and main advantages deriving from their use.
The guillotine/cutters series
These products are available in two versions of material passage: 300 mm and 600 mm. They are to be considered particularly fast in setup and can also be inserted or integrated into flatbed or rotary die-cutting systems. They also allow register cutting on pre-printed or pre-diecut materials.
This line of products grants speed, silence and precision in cutting. The guillotines are also equipped with various extra options that allow our customers to perform various processes, including lamination, longitudinal cutting and register. We remind you that each machine can be customized on specific request..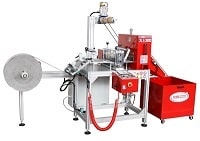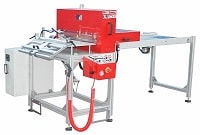 Do you want to buy guillotines/cutters? Keep in touch!
If you are looking for a company you can rely on for the purchase of guillotines or cutters, Guidolin Girotto is the right choice for you! Discover the wide range of standard and custom-made products that can be adapted to every need. Experience and quality of materials are our strengths. Do not hesitate, contact us for any doubts or further requests and you will not be disappointed!