Our precision engineering company is also dedicated to the production and sale of
laser hybrid rotary presses
. Their cutting area is 250×250 mm and 350×350 mm, for a power of 350-750W or even higher, according to the requests and needs of the customers. These machines make use of the Laser CO2 equipped with a 3-axis galvanometric head. Let's see in detail all the characteristics of these components.
Hybrid laser die-cutters
The technology of our hybrid laser presses allows various half-cutting and total cutting processes that would not be possible by using a simple die-cut, such as micro-perforations, or very complex shapes and engravings.
processing of difficult materials;
the elimination of the cost of the dies;
the timing of their implementation.
It is important to reiterate that each of our machines can be customized on specific customer request.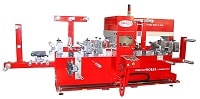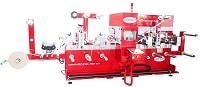 Are you interested in hybrid laser presses?
Are you looking for laser hybrid presses or their components? Guidolin Girotto is certainly the right company for you! Entrust yourself to the experience of our professionals and buy precision mechanics, die-cutting machines and custom-made mechanical components that can meet your expectations. Please contact us for any further request, our experts are ready to answer and clarify any doubts. Choose the quality and professionalism of Guidolin Girotto and you will not be disappointed.